Dublin University Boat Club
Rowing on the Liffey since 1836
Friday 6th of April signaled the beginning of the 2018 Regatta season and DUBC were deployed en masse for some extremely enjoyable match racing in both Neptune and Commercial Regattas, along the interminable Islandbridge Course. Although there was a mixed grouping of results from the weekend, there were hugely positive performances on many fronts, with all crews displaying the grit and fitness the long winter months of training have instilled. The summary of results are as follows:
Neptune Regatta:
The Senior 4+ of Mark Quigley, Turlough Hughes, Gavin Moore and Brian Cronin, coxed by Avril McCormack, displayed composure to beat UCD in a hard fought final.
The Senior 8+, comprising a mixed crew of senior and intermediate rowers, also beat a UCD crew in the final, storming to an eventual win of 3/4 of a length.
The Club 8+, containing several novices, showed the gumption and temperament of a far more experienced crew to come from behind, rowing through and beating UCD in the first round by three feet. They were then unfortunate runners up to an extremely polished Neptune crew in the second round.
The novice 8+ comfortably beat UCD in the first round but were sadly beaten by the eventual winners, another UCD Crew, in the second round.
Commercial Regatta:
The Senior 8+, again crewed by a mix of seniors and intermediates, coxed by Avril McCormack, had an extremely successful outing, claiming wins from two Commercial crews.
The Inter 4+, coxed by Rowan Hamilton SCH., barrelled their way to a comprehensive win over an experienced Commercial crew.
Two Novice 8+ were in action, the novice A boat winning their first-round race against UCD but lost in the final against another UCD novice crew. The B boat lost in the first round to eventual winners, UCD.
The Novice 4X+, showing both freshly acquired sculling ability and tremendous determination, were beaten in a spirited row by DIT, rowing out of Commercial.
An action-packed weekend of racing gives the club plenty of valuable racing experience and momentum heading into the 2018 University Championships, to be held this Friday the 13th of April in the National Rowing Centre. DUBC wishes to acknowledge the effort and extend our thanks to all involved in the organisation of both Neptune and Commercial regattas, with water levels and flow speeds rendering conditions less than serene.
– R. White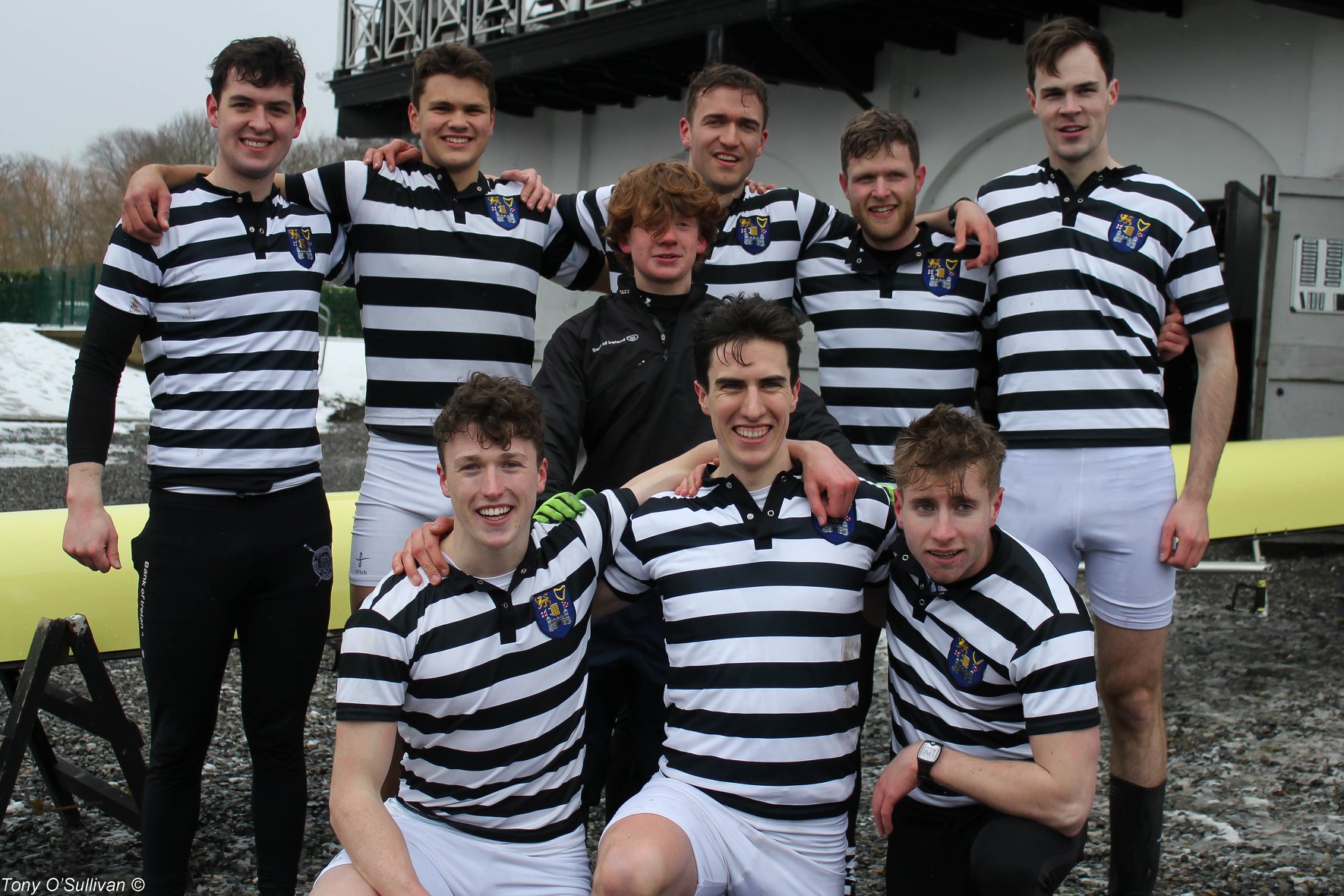 Gannon Cup Crew: (Top Row L-R) Will Doyle 3, Andrej Liadov 5, Rowan Hamilton Cox, Turlough Hughes 7, David Butler 2, Danny Pierse 6. (Bottom Row L-R) Gavin Moore 4, Mark Quigley Strk ,Brian Cronin Bow.
After a slight delay and a venue change due to adverse weather conditions, the Colours races took place on Sunday morning the 18th of March in Islandbridge.
The Dan Quinn crew raced a fantastic race, but unfortunately were beaten by two feet on the line. Congratulations to UCD.
The Gannon Cup was another exhilarating race, and DUBC came out on top by half a length after coming back from over a length behind to claim the Gannon Cup!
Well rowed Trinity!
Dublin University Boat Club is the rowing club of Trinity College Dublin. Established in 1898, the club continues a tradition of rowing excellence practiced in Trinity since 1836. Among the oldest rowing clubs of the world, DUBC maintains a long history of success at domestic and international level. Multiple wins at National Championship events feature prominently alongside victories at Henley Royal Regatta and Irish University Championships. DUBC's accolades span the breadth of competitive rowing, from novice level to World Championship and Olympic representation.
Rowing for DUBC offers the opportunity for intensive training in both sweep and sculling boats, accommodated by state of the art, high-performance facilities for both land-based and water training. Professional coaching structures and individualised training programmes facilitate the development of the student athlete, while encouraging the high academic standard demanded of students at Trinity.